Writing your first academic paper in Chicago 17 format can be a real nail biter. Not only is the official manual massive, but it can be difficult to know which Chicago style citations to use. Breeze through your essay by breaking down the Chicago and Turabian style format into digestible chunks with a straightforward and comprehensive guide.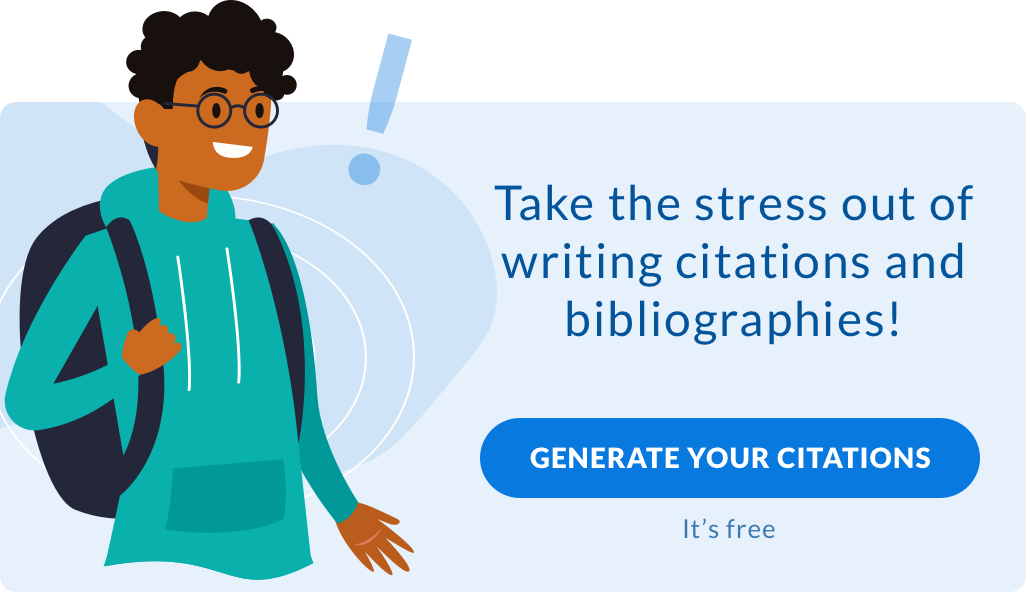 Should You Use Chicago Style?
College writing is never easy. Knowing what style to use for your paper is even harder. Your head could be floating with acronyms like MLA or APA. But, you don't want to discount Chicago format and its style of citations.
When to Use Chicago Style
So, when do you follow the guidelines for Chicago format? Look at the topic of your essay or research paper. Chicago style is great for writing about topics like history, arts, literature and social sciences. It is also a great style to choose if you are in doubt of which style to use since it is so versatile.
Who Created Chicago Style?
The Chicago Manual of Style is published by the University of Chicago Press, and it is in it's 17th edition. Chicago format is an extensive writing style that is prepared for all different types of papers.
What Is Turabian Style?
When you hear about the Chicago format and writing style, you might have hear the term Turabian. Turabian and Chicago use the same formatting style. However, Turabian style formatting breaks down the comprehensive Chicago style into an easy-to-use format for both high school and college students.
In addition to including information on Chicago style citations and Chicago format, Turabian breaks down researching and writing for newer writers. So, if you are a college student writing your first research paper, Turabian might be your go-to style.
Chicago Style Formatting: Author-Date vs. Notes-Biblio
You can't break down the basics of the Chicago style without discussing that it offers you two different ways to cite sources in your paper. You can choose to use the author-date or the notes-biblio style. While this might seem confusing, it really isn't. Much like which writing style you should choose, choosing your Chicago citation formatting comes down to your topic.
Author-date citation works well for topics in sciences, like natural, physical and social sciences.
Note-bibliography style citation works for essays on human society, culture, humanities, historical literature and arts.
Gathering Research Using Chicago Style
If you've made it this far, Chicago format is the right style for you. Now it is time to actually start creating your paper. Before you dive in, make sure that you are formatting your research and paper properly.
Finding Sources
Before you start crafting your thesis, you might want to do a little bit of preliminary research. To make sure that your research is strong and credible, you want to look for good primary and secondary sources. There are several free primary source websites that you can check out. You could also check out public domain sources for useful information.
Crafting Your Thesis for Chicago Style
After you have a strong idea of what you are going to write about, you need to work to create your thesis statement. A thesis statement is different from a purpose statement. Your thesis statement is the argument or point that you are trying to prove in your paper. It needs to be strong and relevant. It might also change throughout the writing process.
Creating a Chicago Style Outline
With all the research that you've done, you should have a pretty good idea of the framework of your paper. Creating an outline in Chicago style is a great way to organize your thoughts and sources in one place. When creating your outline, you'll want to keep with the Chicago style formatting so that it flows seamlessly into your paper.
Don't get fooled that an outline is pointless. This step can actually help you to write your paper, since all your information is already laid out and organized.
Formatting Your Chicago Style Paper
The time has come to actually create your Chicago style paper. This is where you'll want to really pay attention. Like every writing style, Chicago has rules. From the spacing to the font you use, Chicago guides you through every step of your essay or research paper creation.
Formatting Basics
For Chicago style, you'll double space your text, have page numbers near the top, and use 1" margins. Your font should be readable and no less than 10 pt. Times New Roman in 12 pt. is typically preferred. Your paper will also have different parts including:
Title Page – A title page may or may not be necessary but will include your title, name, class information and date.
Main Body – This is where the real meat and potatoes of your research will go. (pictured below)
References – You'll cite all the sources that you used in either a bibliography or list of references.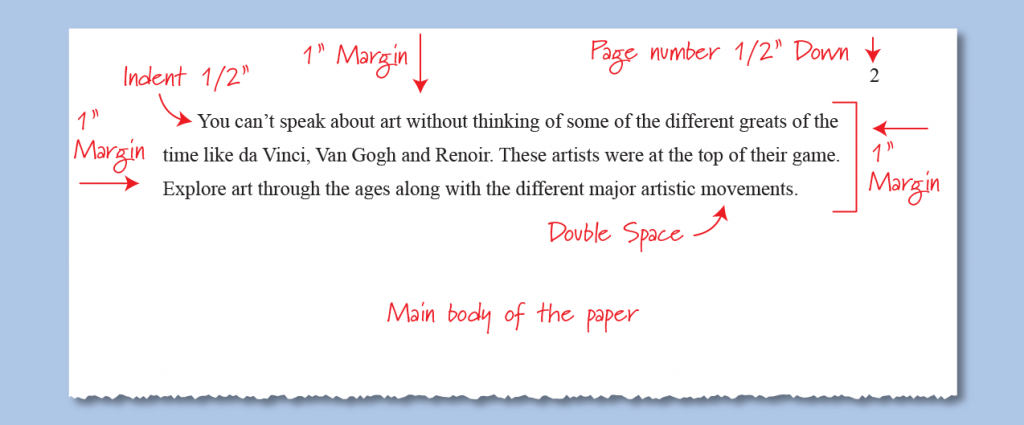 Creating Your In-Text Chicago Style Citations
Giving credit to those quotes you use within the body of your text is important. Trying to pass someone else's thoughts or words off as your own is a serious case of plagiarism and will earn you nothing but a big fat F. To avoid plagiarism, you need to make sure that you cite your sources.
Find out how to use author-date and notes-bibliography citation styles.
Author-Date Chicago Style Formatting
When it comes to the author-date citations, this is very similar to citations that you might make in APA format. Every time that you use a short quote, long quote, block quote or paraphrase a section of text, you'll indicate the author and date of the work you used. As an example, you can look at a Chicago website in-text citation here.
Website Example:
There are over 50 million different species of birds globally (Baron, 2020).
Footnotes and Endnotes
The other form of in-text citation that you can use in Chicago style is notes. This could be an endnote or a footnote. While you typically won't include both endnotes and footnotes in your paper, they are created the same way. In the text, you include a superscript number after the quotation mark that will correspond with the endnote or footnote.
You might be wondering what an endnote and footnote are. Well, an endnote is at the "end" of the paper before the bibliography. A footnote is at the "foot" of the page where you included the quote. Endnotes and footnotes are nice because they don't clog up your paper with names and dates.
In-Text Example
Students feel that culture and diversity is important1 for their college education.
Endnote (Footnote) Example
1 Peter Parker, "The Increasing of Diversity in College," Education Today 5, no. 2 (Spring 2020): 12, https://doi.org/xx.xxxxx. Qualitative data show that 10 out of 15 students survey had an expressed need for cultural diversity.
Expansive List of Bibliography and References for Chicago Style Citations
The bibliography is upon you. Hopefully, you were organizing all those sources that you cited throughout your paper, because now it is time to list them.
If you used author-date in-text citations, you're going to create a references page for the sources that you cited in your work. Those that used notes will be creating a bibliography. A bibliography is unique in that it will include all the sources that you used to create your paper, even if you didn't cite them directly. Since the creation of each of these is different, it is important to break them both down.
Creating Your Chicago Style Reference Page
Creating your references page is all about formatting. In addition to including the title "References" at the top, using hanging indents and following spacing rules, there are specific sources that you can eliminate right off the bat. These include classical works, the Bible and some arts sources.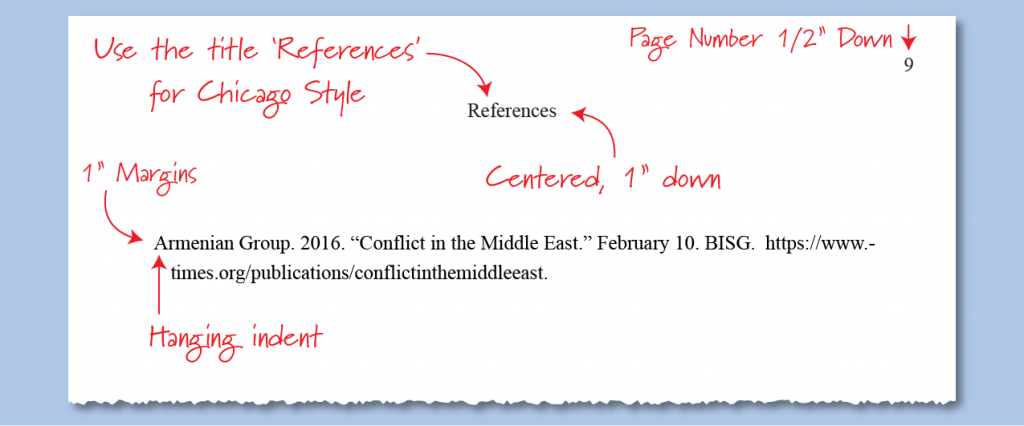 Citing Print Sources in Author-Date Style
Now that you've gotten rid of those sources, it is time to create your citations. When it comes to author-date reference citations, you are going to include the creator, identification of the work, date of publication, location of work and publisher. This is the basic information to include for a journal entry, reference works or books.
Reference Example:
Thomp, David. 2018.  Dictionary of Film. Massachusetts: Knopf.
Media and Digital Sources in Author-Date
Visual and performing arts, audio, video and online sources might require extra information. Instead of publication information, you may include the URL/DOI, site owner and/or medium.
Website Example:
Revolution Industry Group. 2016. "Steps to Publishing." March 7.  BISG. https://www.rig.org/publications/bisq-quick-start-guide-accessible-publishing.
Formatting Your Bibliography in Chicago Style
Rather than going with author-date, you opted for the notes in your paper. In that case, it is time to create your Chicago style bibliography template. This means you will label it as "Bibliography" and list your citations in alphabetical order. You may have opted to create a preliminary bibliography or you could just start diving right in.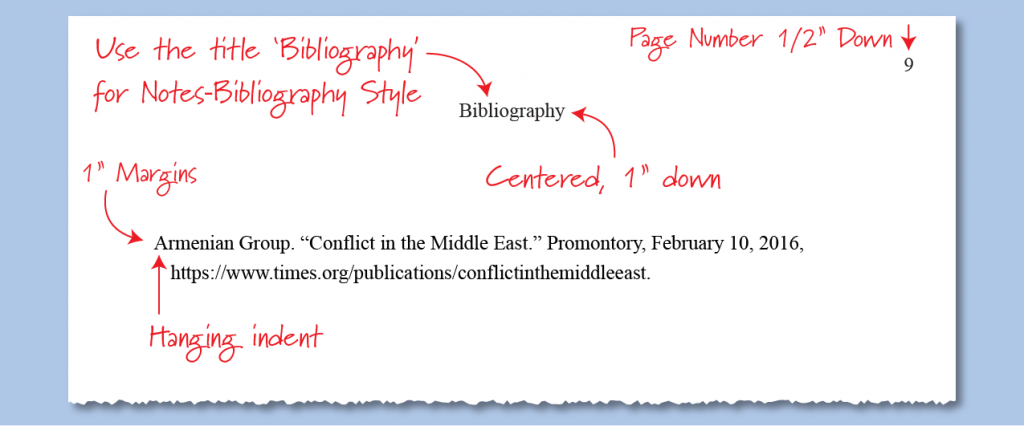 Citing Print Sources in Your Bibliography
When it comes to print sources, you'll be making citations for books and reference volumes or periodicals like scholarly journals, newspapers and magazines. These sources will have a publisher, possibly a volume, and page numbers. You are going to want to include all of that information, plus the author and title, in your citation.
Reference Example:  
Barber, Katherine, ed. Canadian Oxford Dictionary. 2nd ed. Oxford: Oxford University Press,  2004.  https://doi.org/10.1093/acref/9780195418163.001.0001.
Citing Digital and Media Sources in a Chicago Style Bibliography
Another common citation you'll come across, especially in your arts papers, will be for digital and media sources. Just like the author-date style, you'll be taking a unique approach to citing your sources on your bibliography page.
Multimedia bibliography citations include the location of the source and name of producer, while visual arts bibliography citations will include the location of the work. Online source bibliography citations have a URL or DOI listed.
Website Example:  
Kavena, Ken. "Interview with Darrel Quin." Promontory, February 19, 2020,  www.kued.org/productions/promontory/interviews/quin.html.
Sectioning Your Bibliography
As you research for your bibliography, you might find that one author is always coming up or that you are writing about a specific set of characters or categories. To make your bibliography easier for your reader to follow, you can choose to section your bibliography by specific categories. This will just make everything a lot easier for your reader to follow.
Annotated Bibliography in Chicago Style
Another way to really make your bibliography stand out is to make it a Chicago style annotated bibliography. This is where you annotate your bibliography to provide either a summative or evaluative overview of each work listed. This can give your readers a little more insight into the different works that you used to write your paper.
Examples of Chicago Style Citations
Whether you are creating references or a bibliography for your anthology essay, looking at examples can work to make things a lot clearer. And, if you took the easy way out and used a citation generator, then you can double check that your generator was on top of its game. Explore several examples of what citations should look like for your bibliography, references and notes.
Citing Books in Chicago Citations
A Chicago style citation for a book isn't always going to look the same.  This might include one book that is cited or a whole anthology citation example. The author or authors will always come first if there is one. When it comes to multiple authors, you'll list them in the order that they appear in the original work.
Book Example in References:
Author's Last Name, Author's First Name. Publication Year. Title of Book: Subtitle of Book. Publication Place: Publisher's Name.
Book Example in Bibliography:
Author's Last Name, Author's First Name. Title of Book: Subtitle of Book. Publication Place: Publisher's Name, Publication Date.
Note Citation Format for Book
##. Author's First and Last Names, Title of Book: Subtitle of Book (Publication Place: Publisher's Name, Publication Date), pp.
Periodical Citations in Chicago Style
Periodicals can get a little tricky. That is because there are so many different periodicals out there, like monthly, weekly and yearly journals; magazine articles; county and national newspapers; and multiple other articles that are available with a wealth of interesting research. These are all going to need to be cited in different ways, depending on your paper. View an example of a journal article here.
Journal Example in References:
Author's Last Name, Author's First Name. Publication Year. "Article Title: Subtitle of Article." Title of Journal Volume Number, Issue Number (Additional Date Information): YY-YY.
Journal Example in Bibliography:
Author's Last Name, Author's First Name. "Article Title: Subtitle of Article." Title of Journal Volume Number, Issue Number (Publication Date): YY-YY.
Note Citation Format
##. Author's First and Last Names. "Article Title: Subtitle of Article," Title of Journal Volume Number, Issue Number (Publication Date): XX.
Television, Movies and PowerPoint Chicago Citations
Just when you thought you were done, it is time to look at how to cite a TV show or movie example. Since PowerPoint presentations can provide a wealth of information, it is good to know how to cite them as well.
TV Example in References:
Show Title. Year. Season #, Episode #, "Episode Title." Directed by First Name Last Name. Aired Month Day, Year on Network.
TV Example in Bibliography:
Show Title. Season #, Episode #, "Episode Title." Directed by First Name Last Name. Aired Month Day, Year on Network. URL.
Note Citation Format
#. Show Title, season #, episode #, "Episode Title," directed by First Name Last Name, aired Month Day, Year, on Network (Production Co. or Distributor, Year), URL.
Mastering Chicago Style
Mastering any writing style is rough. Chicago can be even tougher because there are at least a couple different ways you can go, including author-date and notes-biblio. Thankfully, Turabian is available for students to help guide them through the process.
We are sorry that this post was not useful for you!
Let us improve this post!
Tell us how we can improve this post?