Creating a Chicago style paper can be challenging to figure out at first. However, Chicago does offer a Turabian style designed just for students to simplify things. Learn how to format your Turabian/Chicago style paper from the layout to the images.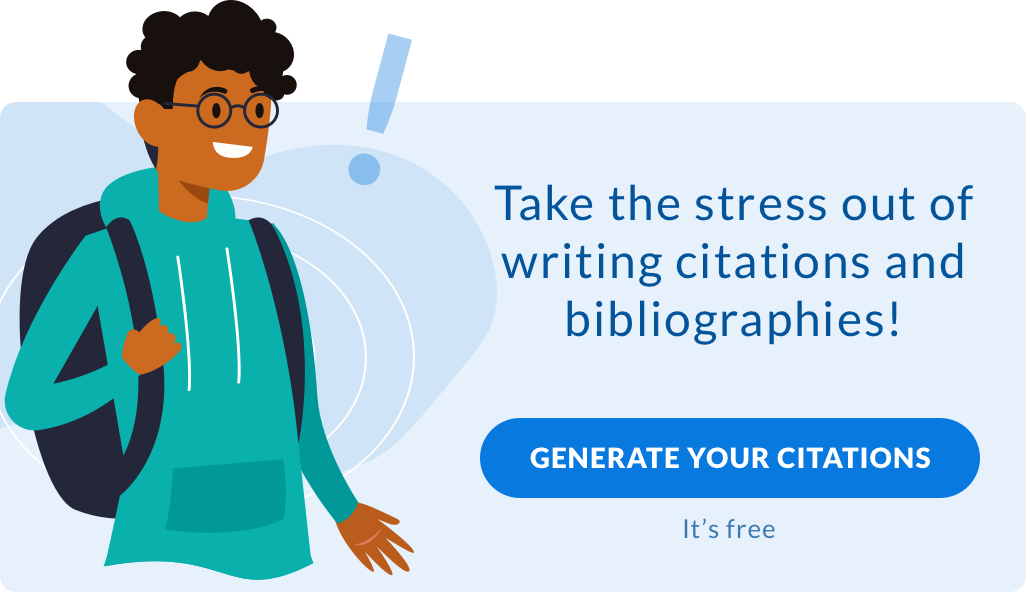 Chicago Style Paper Page Layout
Like most style guides, Chicago style paper formatting has a specific plan and page layout. However, since the main Chicago style guide is designed mostly for published work, Chicago offers students a handy guide created by Kate L. Turabian. The Turabian style of the Chicago Manual of Style works well to break down the general formatting guidelines for creating your student research paper in Chicago. 
To keep things simple, let's look at the basic formatting rules first. 
1-inch margins

Times New Roman 12 pt. font recommended

Left justified (means the text on the right will be jagged)

½ inch indent for the beginning of paragraphs

Header with the page number in the right corner

Double spaced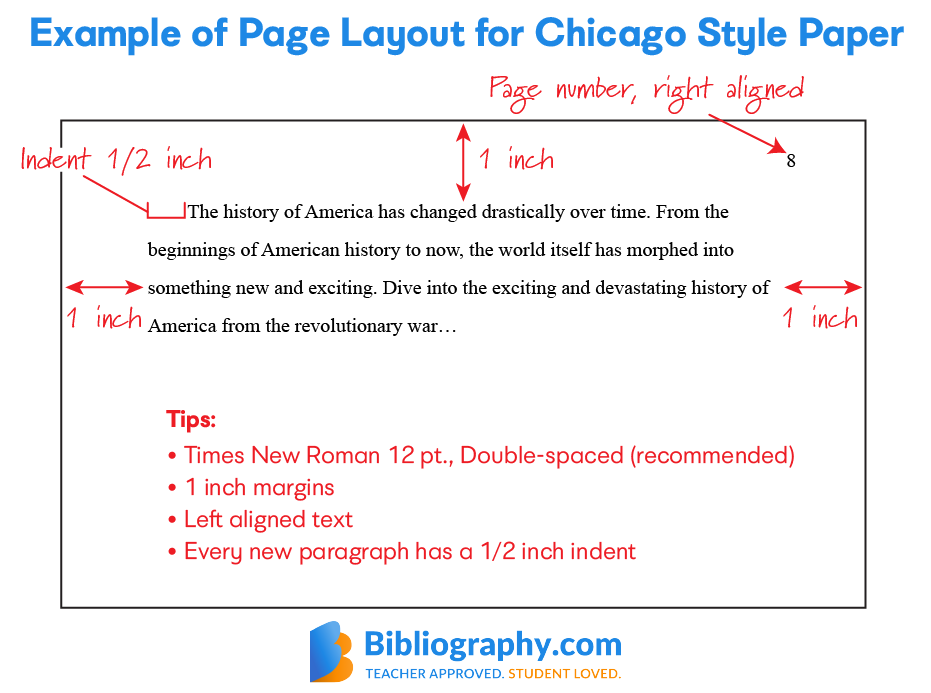 Formatting Your Chicago Title Page
When it comes to creating your title page in Chicago style, there are a couple of ways you can handle it. You can choose to create a separate title page, or you can add your title to the first page of your paper. 
For a separate title page, you need to meet these guidelines. 
The title is ⅓ of the way down. 

The subtitle goes under the title. Place a colon after the main title. 

After 3-4 returns from the title (about ¾ way down), place your name, class, date, and any other instructor requests. 

Everything on the title page should be double spaced.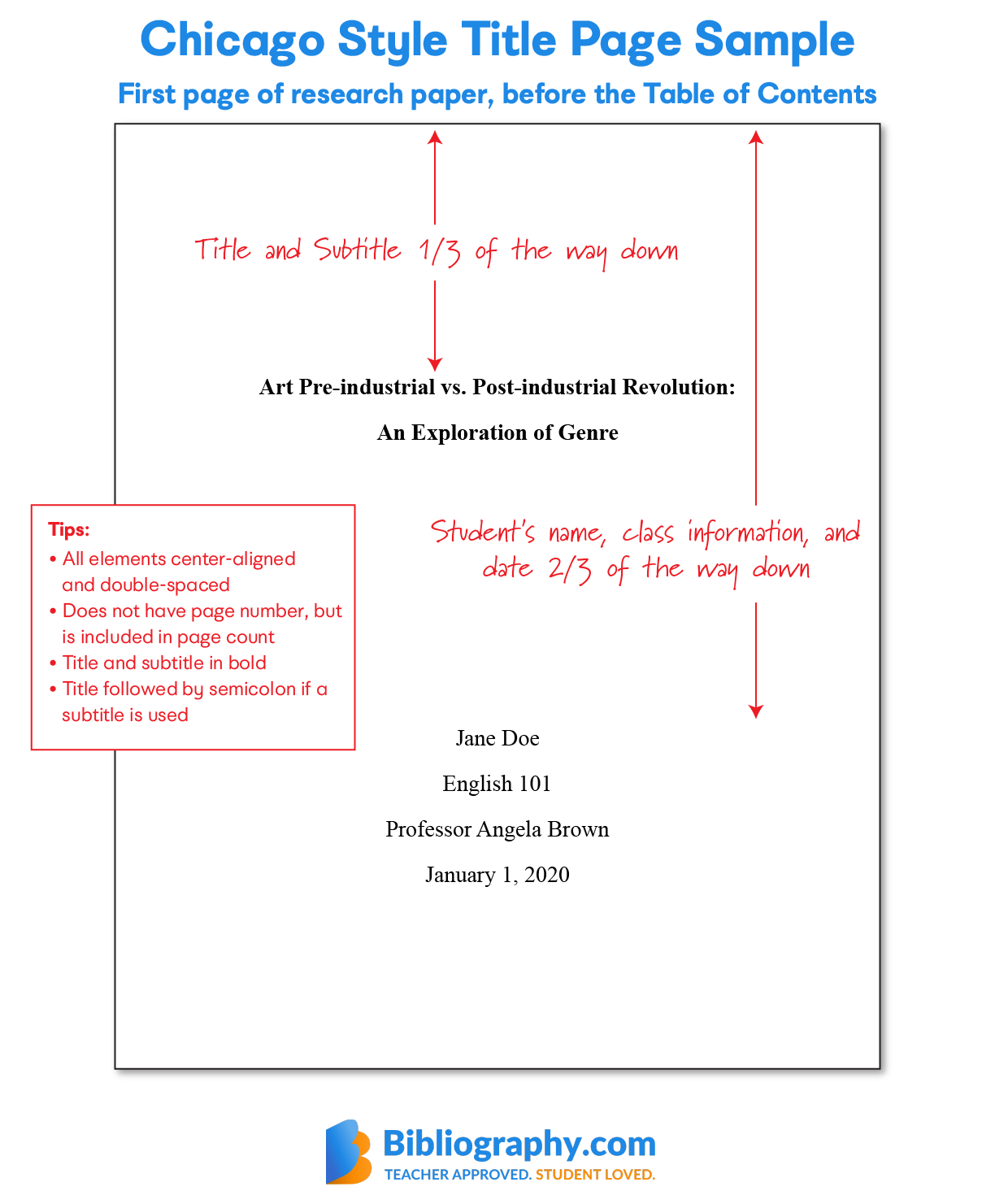 Creating Headings for Chicago
Throughout your paper, headings are included in the Chicago style to set off chapters and other areas of your essay. Chicago style doesn't offer a specific format when it comes to headings as APA style does. However, the Chicago style does clarify that you should keep everything consistent within your project. Therefore, if you have a  chapter heading using a bold, large font, then use that same format for all your chapter headings. For subheadings, if you use italics, use that same font size and italics, etc. Additionally, all titles use title case. 
Example of Headings: 
Chapter 2: Civil War
2.1 The Beginnings of the War
2.2. The End of the War
Block Quotations in Chicago Style
When you think about formatting your Chicago style paper, you must think about formatting your block quotes. These are lines of prose that are five or more lines. Rather than using quotations marks for these, you set them off with a ½ inch indent. The title of the work is included in the line above in italics, and the blockquote is set off with a colon in the line leading into the quote.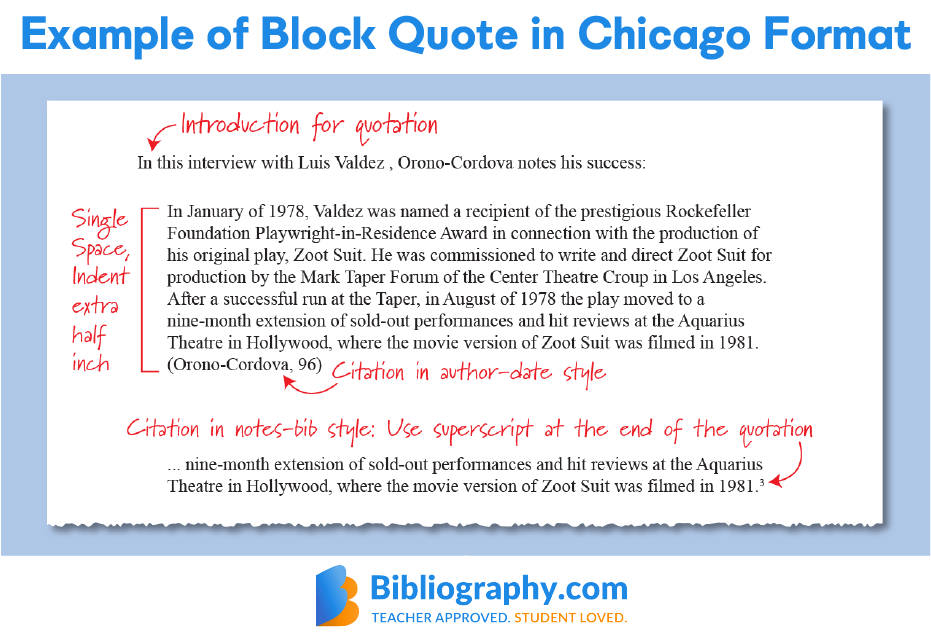 Chicago Style Numbers and Acronyms
The Turabian format of the Chicago Manual of Style doesn't have many rules for numbers and acronyms. However, they do want you to introduce an acronym the first time you use it. For example, to introduce the acronym for the Chicago Manual of Style, it would look like the Chicago Manual of Style (CMOS).
Note: Numbers are spelled out for numbers under 100. Therefore, the number 88 would be spelled out as eighty-eight.
Figures and Tables in Chicago
When it comes time to include a figure or table in Chicago style, it's essential to place it directly under the information where you discuss it. Additionally, follow a few different rules like:
Place the caption flush left under the image or table.
Start with a label (i.e., Figure 1 or Table 1). These should be in consecutive order, like Figure 1, Figure 1.1, etc.
Use single spacing for the caption.
Use at least one blank line between the caption and text of the body of the article.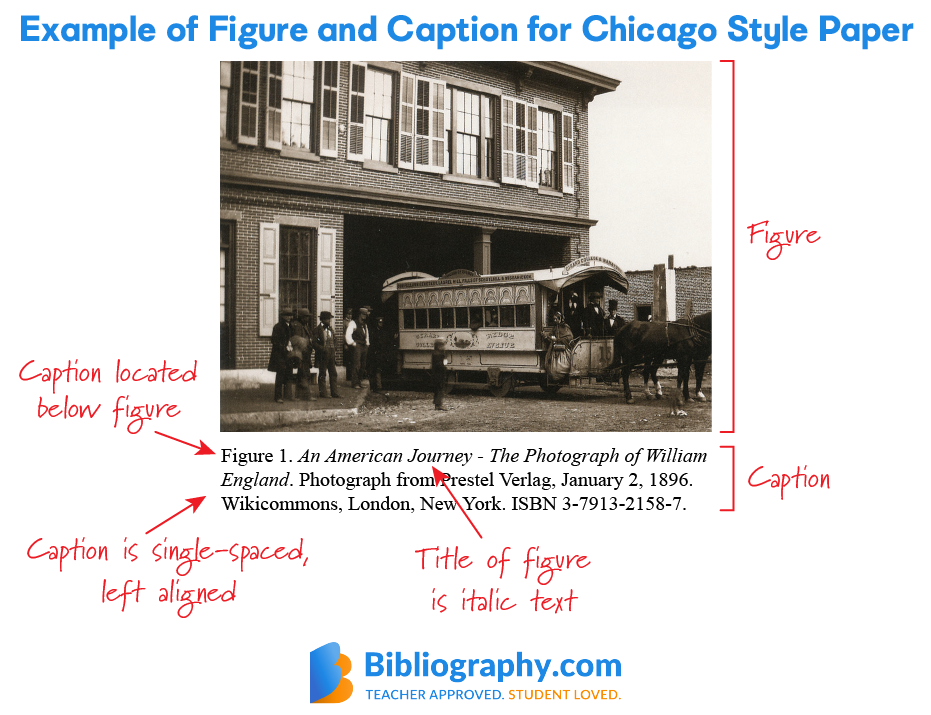 Perfect Chicago Formatting
Once you break down all the rules, Chicago paper formatting is pretty simple. Just remember, your instructor's recommendations trumps the style guidelines. Therefore, you'll want to follow any specific rules your instructor has set for you.

FAQ Chicago Style Paper: Standard Format and Rules
How do you write a Chicago style paper?
To write a paper in Chicago style, you follow the formatting guidelines laid out by the Chicago Manual of Style. This means you include 1-inch margins on all sides, double space, use justified left text, and indent new paragraphs. Chicago style also recommends the use of Time New Roman 12 pt. font.
What does Chicago style paper look like?
The format of a Chicago style paper can look different based on if you use author-date or notes-bibliography styles. The author-date style has in-text citations that include the author-date like (Betts, 1989). However, the notes-bibliography style has superscript numbers and foot- or endnotes.
Do Chicago style papers need a cover page?
No, you do not need to include a title page in Chicago style. However, if you choose not to include a title or cover page, you need to include your name, instructor, and course information on the first page of your essay or research paper.
What is Chicago style used for?
Chicago is a versatile style that can be used for a variety of academic topics for essays and research projects. For example, author-date Chicago style works well for science papers. Notes-bibliography style, on the other hand, works great for humanities papers.
How do you insert page numbers in Chicago style?
To insert numbers in the Chicago style, you need to have a running header that starts on the first page of the body of your paper. It will be in the right-hand corner, 1/2 inch down, and continue throughout your paper and reference list.
We are sorry that this post was not useful for you!
Let us improve this post!
Tell us how we can improve this post?