MLA

APA

Chicago

Best

Fastest

Your
Citation Generator
We get it. Crafting citations can be painfully tedious. Put the hours spent creating them manually behind you. We're here to take the stress out of citations with our quick, automatic and easy-to-use bibliography maker. Whether you're prepping a simple or annotated bibliography, any project will be top-notch with our MLA, APA and Chicago citation generator.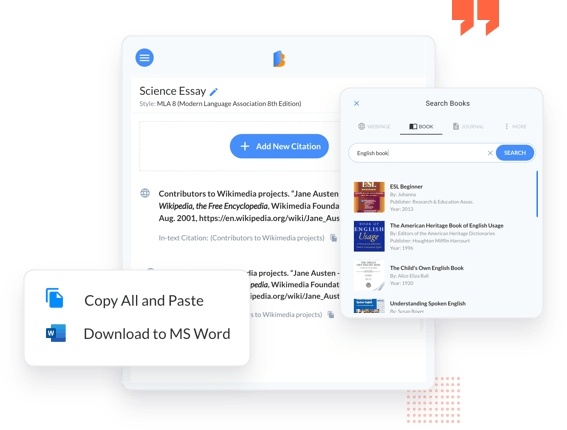 Confidently Crafted, Stress-Free Bibliographies
Ditch the frustrations of creating citations and focus on learning. No more wasted hours or errors. Only easy and ad-free, online citations.
Bring our bibliographic tool right to your online browser with our Chrome Extension, which can be quickly added to Chrome, Edge or Brave.
Discover your sources stress-free. We'll recommend related sources to broaden your knowledge and bring your project to the next level.
We're here to help you cite a book, website or journal confidently. Use your knowledge from sources like Purdue Owl and we'll do the rest.
Organize your citations how you want. Easily create in-text citations, references or export to Microsoft Word or Google Docs.
Team up with your classmates on any project. Build a collaborative bibliography to easily share with your peers and teachers alike.
Say Hello to Bibfy by Bibliography.com
More than 28 Million references for your research. Access countless reliable
sources on your topic with a simple click.
Easy-to-Use Source Generator

Quick Access to Credible Sources

Get Essay Help
FAQ
Are citation generators accurate?

What does an APA citation look like?

How do you do in-text citations in Chicago Style?

Does Chicago Style have a works cited page?

What is MLA citation style?

How do you do a citation?

What is the difference between APA and MLA?