Chicago/Turabian 17 style bibliographies can be stressful. But, sometimes you're required to write a Chicago style annotated bibliography too. A Chicago annotated bibliography includes your citations plus an annotation summarizing or evaluating each resource used. That's why it's called an annotated bibliography.
To get a clear picture of how to create your annotations, explore the format and view an example of a Chicago annotated bibliography. Then, you can rest assured that you are creating your bibliography annotations correctly.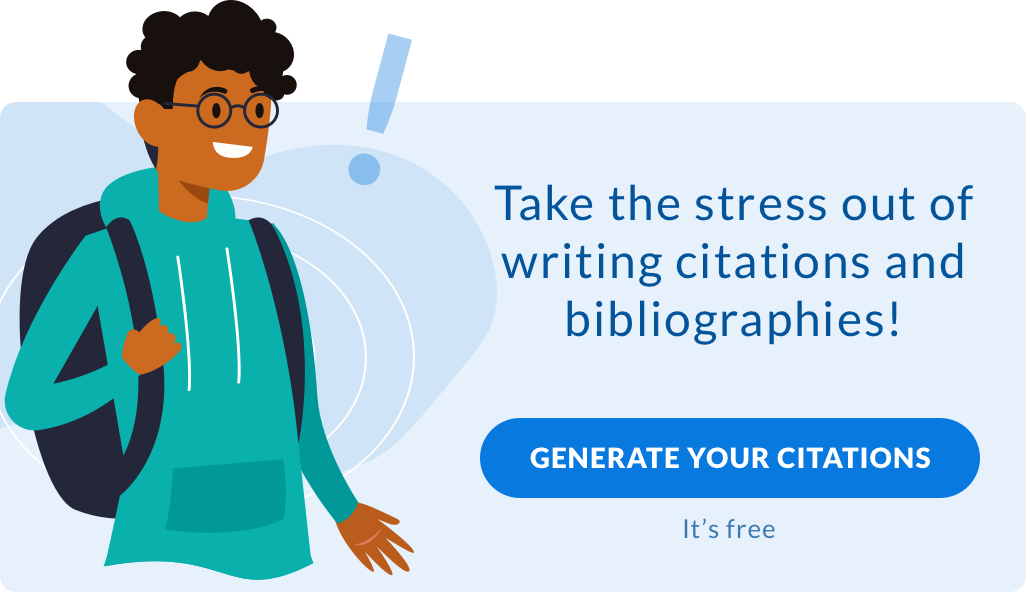 Creating an Annotated Bibliography in Chicago Style
When writing a Chicago style annotated bibliography, citations in author-date or notes-bibliography formats stay exactly the same. That's a relief, right? However, what you will include is an annotation of the source you used. The annotations come in two varieties: summary and evaluative.
Read on for how to write an annotated bibliography, Chicago style.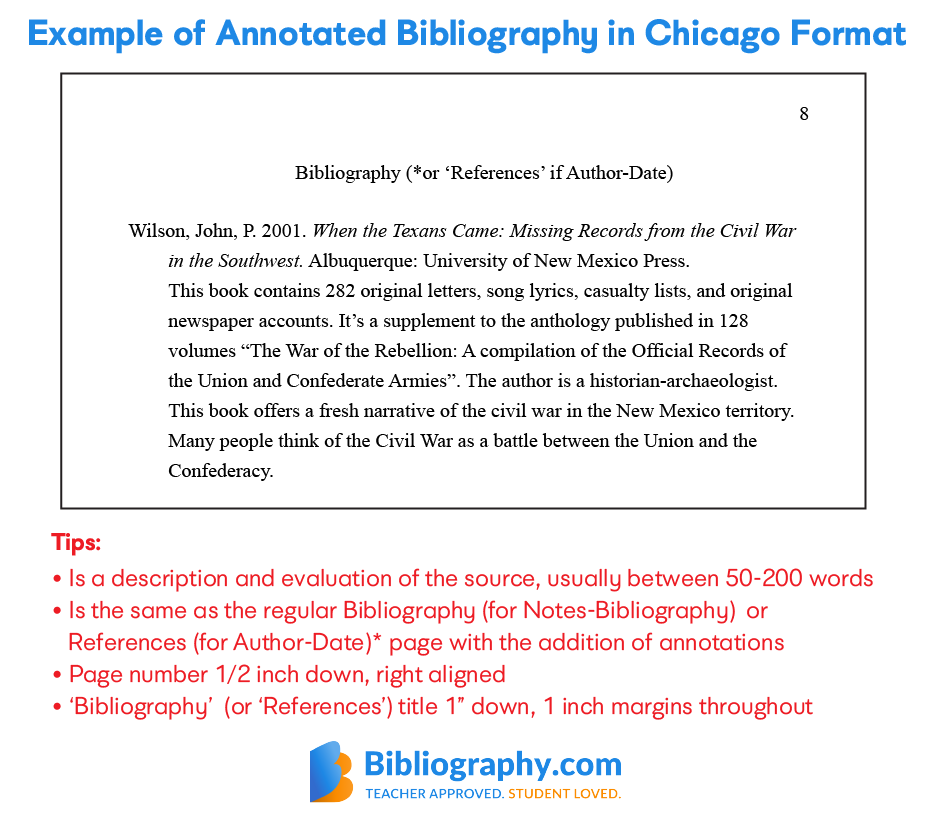 How to Write Summary Annotations
A summary annotated entry is a brief explanation of what information is available in the source. It also describes the author and publisher, as well as any other relevant bibliographic data. That is all you need to include.
How to Write Evaluative Annotations
In an evaluative annotation, you'll also need to critically analyze each source. This means you'll explain why and how this source is important to your research. Here's a list to get you started.
Evaluate the authority of the author.
Are they an expert in their field? What are their credentials?
Identify the intended audience.
How does this source tie into your research?
You may also compare and contrast the source to others in your bibliography.
Note: Annotations should be 100 to 150 words, depending on your assignment rubric. Keep them clear, concise and to the point.
Annotated Bibliography – Chicago Style Example Entry
Here is an example of an annotated bibliography entry in Chicago author-date style.
Wilson, John, P. 2001. When the Texans Came: Missing Records from the Civil War in the Southwest. Albuquerque: University of New Mexico Press.
This book contains 282 original letters, song lyrics, casualty lists, transcripts of witness testimony, original newspaper accounts. It's a supplement to the anthology published in 128 volumes "The War of the Rebellion: A compilation of the Official Records of the Union and Confederate Armies". The author is a historian-archaeologist. This book is an excellent source for primary documents and offers a fresh narrative of the civil war in the New Mexico territory. Many people think of the Civil War as a battle between the Union and the Confederacy. This book gives the Civil War history researcher a glimpse at the battles happening in the Southwest, as well.
This example covers the Chicago/Turabian style. APA and MLA annotated bibliographies follow similar styles. However, they have differences in their respective formats.
How to Format a Chicago Style Annotated Bibliography
Arrange an annotated bibliography the same way as a regular bibliography page. Just follow the letter by letter alphabetizing method by the author(s) last name. If there is no author, use the title, the organization's name or the website. Finally, follow the same spacing and page formatting as in your bibliography.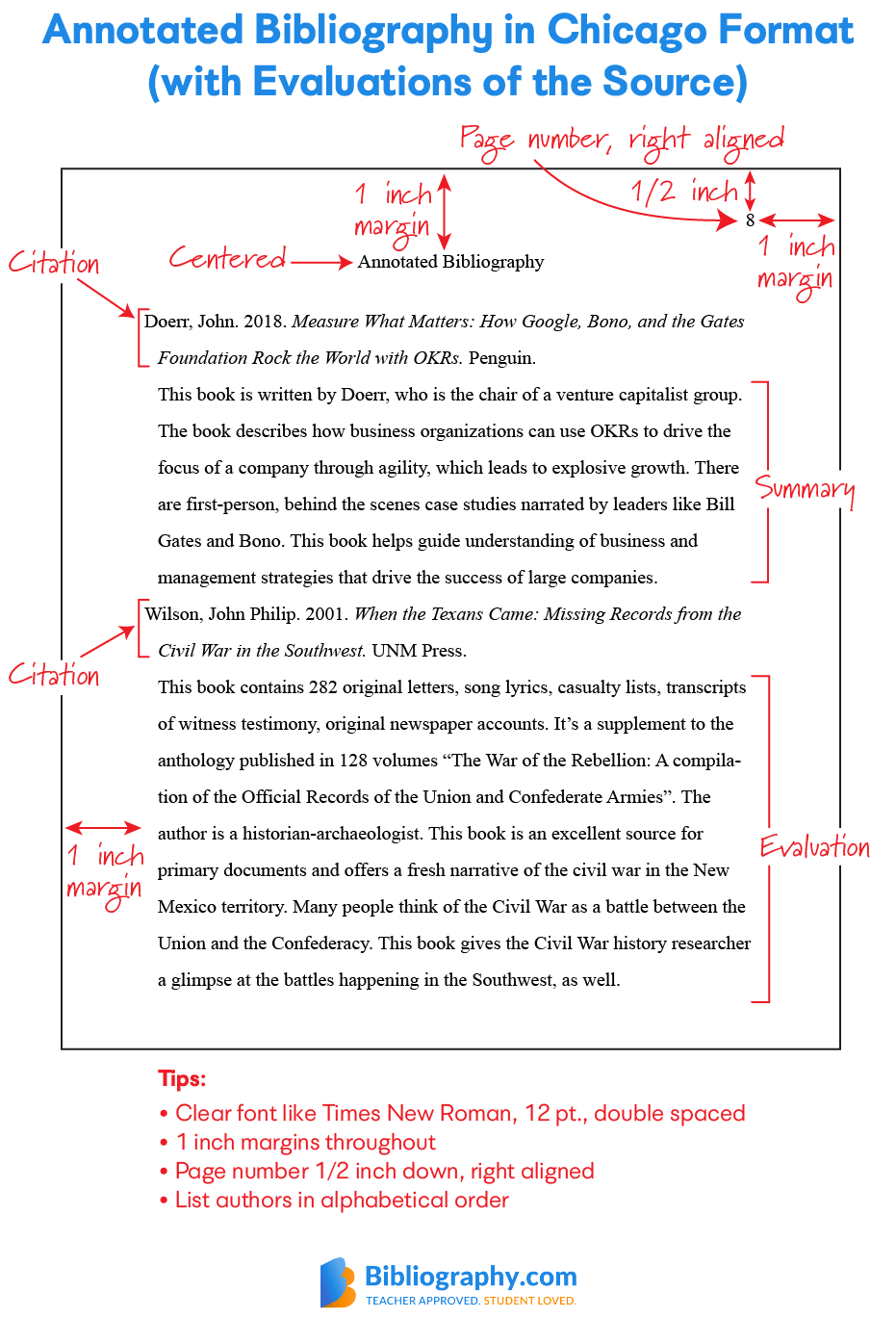 Annotated Bibliographies as Sources
Many times, Chicago style format annotated bibliographies are published as a whole work on their own. These bibliographies are excellent sources for your research. For example, this annotated bibliography evaluates sources on Civil War activities in Lorain County, Ohio.
Chicago Style Annotated Bibliography, No Problem!
Creating a Chicago annotated bibliography is an excellent way to sharpen your research skills. Firstly, you'll learn how to find information about the source. Also, you will research an author's background to determine authority and distinguish between a primary and secondary source. This will have you well on your way to becoming a Chicago style bibliography master for creating your next paper. It's also smart to know how to create an annotated bibliography in any style as well.
Related Articles:
FAQ Chicago Annotated Bibliography Format and Example
How do you write an annotated bibliography in Chicago style?
To write an annotated bibliography in Chicago style, you need to include the annotation and the reference citation for your style. Chicago is unique because it offers the author-date and notes-bibliography style. While the annotation stays the same, the way you create your citation differs between the two.
What are the 3 parts of an annotated bibliography?
The three parts of an annotated bibliography include the title, annotation, and citation. The title and citation vary based on whether you use notes-bibliography or author-date style, but the annotation provides either a summary or evaluation of your source.
How do you write in Chicago style?
To write in Chicago style, you need to follow the formatting and citation rules created by the Chicago Manual of Style. This style is a versatile writing format with two different citation formats: author-date and notes-bibliography.
What does a bibliography look like in Chicago style?
In the Chicago style, a bibliography includes all the sources that you used to create your paper. Each different reference has a citation following the notes-bibliography style. Additionally, you include a title and page number header that is right-aligned.
Does Chicago style have a bibliography?
Yes, Chicago style does have a bibliography if you use the notes-bibliography style. In the notes-bibliography style, you create a reference citation for all the sources you used to create your paper. This includes any that you did not cite in the paper itself.
We are sorry that this post was not useful for you!
Let us improve this post!
Tell us how we can improve this post?