In the 7th edition, the Publication Manual of the American Psychological Association set forth some clarifications and easy-to-follow guidelines for creating tables and where you can put them. Make setting up your APA table a breeze by following this step-by-step guide.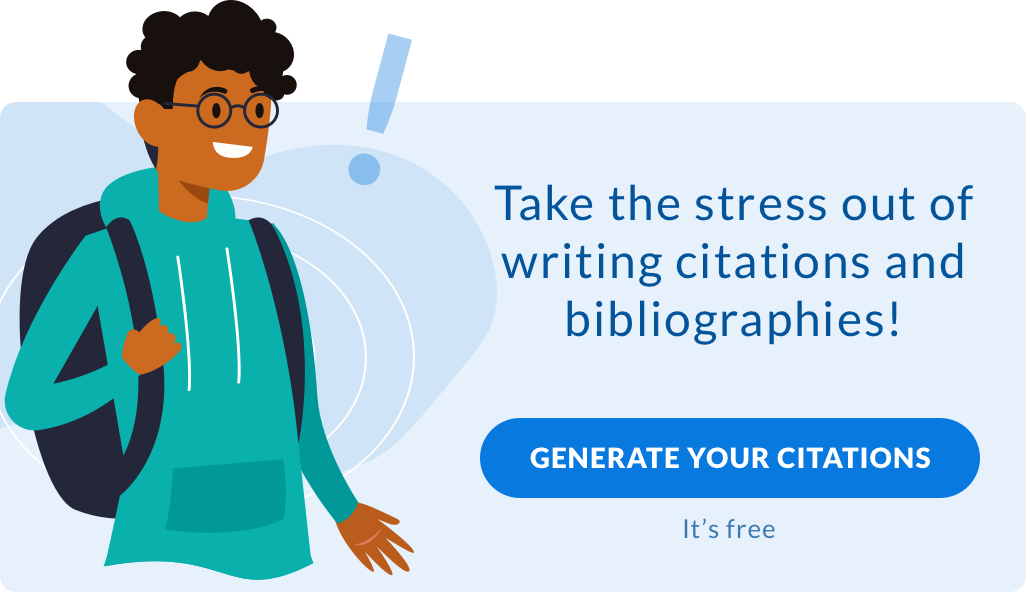 Setting Up an APA Table
The APA style guide is all about…well style. So, they designate just how you can set up your tables in your paper. However, they also give you a bit of flexibility too. To get started, these are the basic formatting guidelines.
APA tables have four essential components.
Number
Title
Headings
Body
Note
To see how this all goes together, check out this APA table example.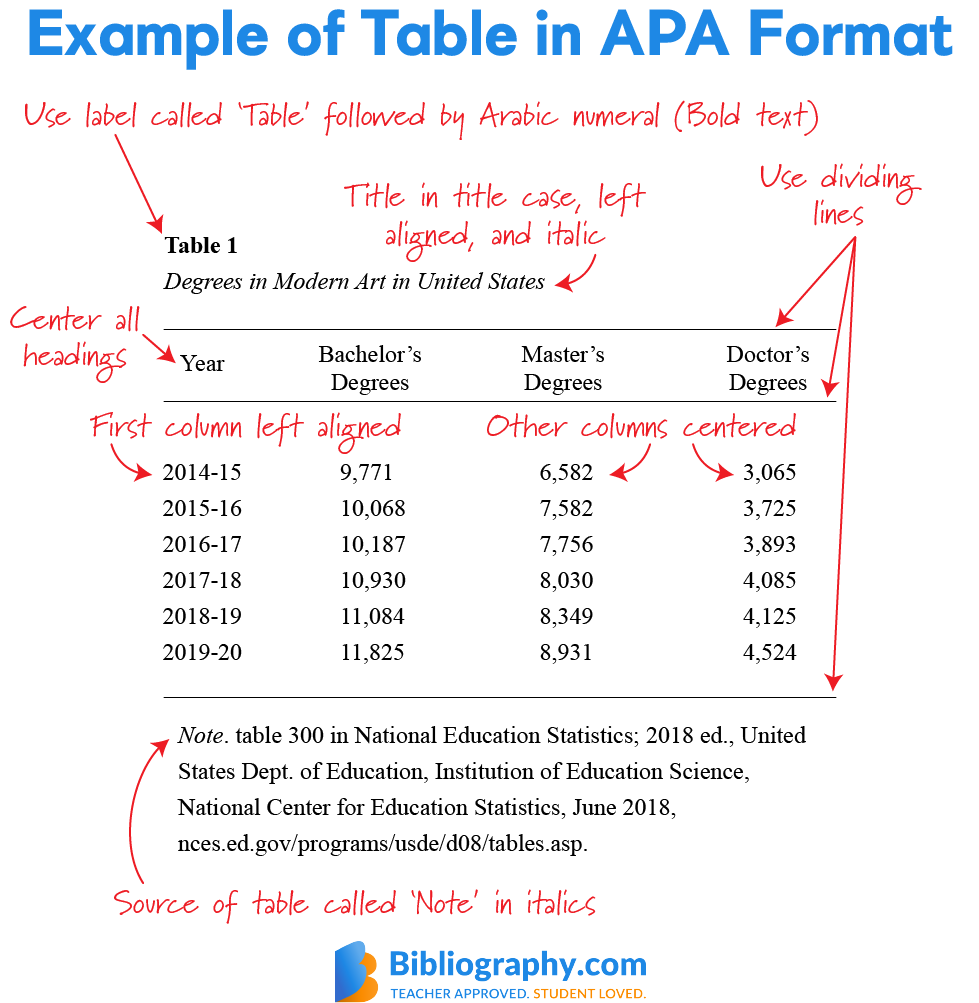 Table Number
The table number is the first thing you see in a table. It includes the label "Table" and the number (i.e., Table 1). Since you might have multiple tables in your research paper, the numbers go in consecutive order (i.e., Table 1, Table 2, etc.).
APA Table Title
Directly under the table number is the table title. Remember, APA format follows double spacing rules, so this is still double spaced. The title should be brief, informative, in title case, and italicized.
Example: 
Degrees in Modern Art in the United States
Heading of the Table
Tables are not one size fits all. Therefore, the headings you use in your table are unique. However, per APA table guidelines, every table, chart, or diagram should have centered headings. These headings fall into different categories, including:
Stub heading – left-hand column (typically variables)
Column headers – descriptive headings describing entries below (1 column)
Column spanners – descriptive headings describing columns below them (2 or more columns)
Decked heads

– column headers stacked on each other

Table Spanners – header covering the entire table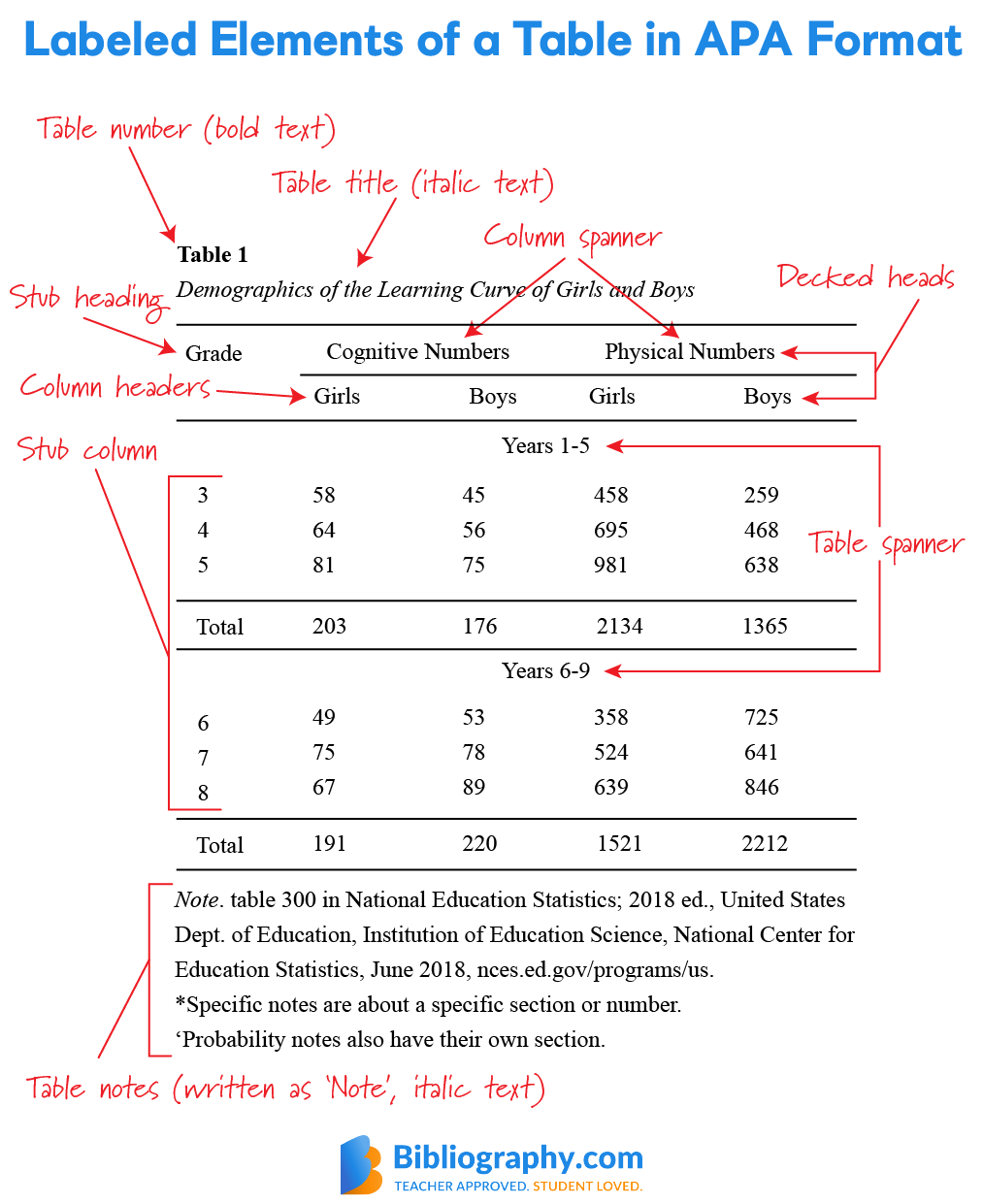 Body of APA Table
Now it's time to look at the body of the table. The table body includes rows and columns that are single or double spaced, your choice. Here are a few other rules.
Add borders as needed for clarity (don't overdo it though)
Left-align the first column
Center all other columns (the exception is for lots of information then you might consider left-aligning it for readability)
Table Note
At the end of your table, include the table note. The word 'Note' will be italicized, but the information the note provides will not.
The note for your table can come in three different types including:
General – explain or provide information about the table and symbols associated with it (copyright attribution)
Specific – provide specific information or explanation for an individual entry like a column or row (define an abbreviation used for a row)
Probability – used for tests and statical information (explain asterisks around a p-value)
Example of General Note: 
Note: table 300 in National Education Statistics; 2018 ed., United States Dept. of Education, Institution of Education Science, National Center for Education Statistics, June 2018, nces.ed.gov/programs/usde/d08/tables.asp.
Placement of APA Tables
An APA format table has two distinct places you can place it in your research paper.
Embedded table – the table is embedded into the body near the information it's discussing.
Separate page – table place on a different page after the reference list.
Where you choose to put your table is up to you. But remember to be consistent with every table you include. Either embed them all or print them all on a separate page.
Citing Sources for Tables
When it comes to citing table sources, these are included on your reference page with the rest of your citations. The format your table citation takes depends on the source you used to create it. Therefore, a table citation for a journal is different from a book or website.
APA Table Checklist
Before you add a table to your APA research paper or essay, the people at APA want your work to be consistent and necessary. So, it's essential to ask yourself a few questions before including those tables.
How necessary is the table?
Is everything presented consistently throughout all tables?
Does the title provide a reasonable explanation?
Are the headings and columns aligned correctly?
Does the note make sense?
Did you cite other source tables correctly?
Is the spacing correct?
Formatting an APA Table
Formatting in APA style takes a lot of work. However, using APA format keeps everything consistent. Since you're ready, create your table. Or, you might want to explore how to create an APA figure.

FAQ APA Table Guidelines Made Simple
How do I make a table in APA format?
To make a table in APA format, you need to include the number, title, headings, body, and note. APA formatting also has different rules for column spanners, table spanners, and decked headers. Just follow all the various rules, and your table will turn out perfect.
How do you list tables in APA format?
In APA format, you can create a List of Tables. However, it is not required. If you choose to create a List of Tables, this looks like your Table of Contents with the table name followed by the page number where it can be found.
How do you reference a table in APA?
When it comes to creating a reference for a table in APA format, you use the citation format for the specific entry. Therefore, if you used a journal article to create your table, then you cite the journal using the APA citation format for a journal. If you pulled the information from a book or website, follow APA citation formats for those entries.
Where do you put a table in APA format?
APA format allows you to put tables in two different areas. You can place the table in the body of the text near the information discussing it. Another option is to place your tables in a separate section behind the reference list. Both are acceptable places to put your table.
How do you make a table in APA format?
To make a table in APA format, you need to include five different elements. This consists of the number, title, column headers, body, and note. Depending on the complexity of your table, you might also include other elements like table spanners and probability notes.
We are sorry that this post was not useful for you!
Let us improve this post!
Tell us how we can improve this post?