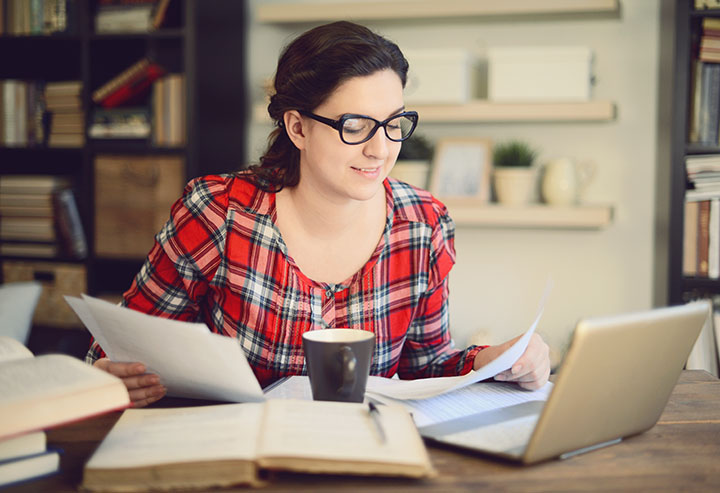 As you start to prepare your paper in MLA Style, you realize you don't know if you should use the seventh edition or the eighth edition of the MLA Handbook. You may think there's not much difference but, in this case, a shift in creating entries for your Works Cited list took place with the publication of the eighth edition.
In 2016, the Modern Language Association (MLA) decided it was time to revise its guidelines to reflect ever-changing technology and ways to retrieve information. The MLA Handbook, 8th Edition, made a pretty big change from the seventh edition to provide flexibility to writers in creating entries for research sources. Be sure and check with your instructor about which edition to use.
Using MLA Style Guide
MLA is a style guide primarily used for the humanities, arts, and language. Because the sources used for research are diverse, MLA is more flexible to use than other styles. For example, if you're writing a paper for your art history, you may be directed to visit a museum to view a painting. In that case, rather than citing a print book or journal for your source, you would need to list the piece of art and its physical location. Although MLA style is designed to allow you some flexibility in creating your entries in the Works Cited list, your entries need to be consistent within the list.
MLA 7th Edition
The seventh edition of the MLA Handbook, published in 2009, carried on the tradition of providing specific examples of ways to document sources and ways to create entries in the Works Cited list. It also eliminated the use of URLs in the Works Cited List as it seemed cumbersome and websites tend to disappear or change names.
Another change in the MLA Handbook Eighth Edition was to include the medium of publication in the entry, for example, including the word Print for a book source or Web for a web source. Previously, it was assumed that print was the default medium, so only other publication mediums were required to be notated.
MLA 8th Edition
Before they revised the MLA Handbook, the editors realized that it was time-consuming to create new ways to cite sources on so many different platforms. A new way of thinking was developed to help writers accurately cite their sources while providing them with the ability to figure it out easily.
In this system, the writer uses "containers" to place the information in to help them create the cited entry. The nine core elements using a container system were put into place.
Other changes include using URLs in the Works Cited list again and taking out the need to declare the type of publication medium (such as Print or Web).
Other Differences
The MLA Handbook 8th Edition is more concise; it's 144 pages compared to a hefty 292-page length in the seventh edition. However, even if your instructor asks you to use the eighth edition, the seventh edition comes in handy as there is a lot of information on conducting research, evaluating resources, note-taking and other topics.
As always, your instructor will tell you which edition to use; however, if you're uncertain, just ask. If there is no stated preference, then definitely use the latest version. But, if you have easy access to the seventh edition, check it out. It is a gold mine of useful information on developing your research papers.
Related Articles
Preparing to Write MLA College Papers
Creating MLA In-Text Citations