Creating citations in MLA format is designed to be easy and flexible. Since MLA style is used in the humanities, it relies heavily on sources from art, historical records, film and video. As these sources can be found on different platforms, the MLA container system was developed to accommodate flexible citation formats.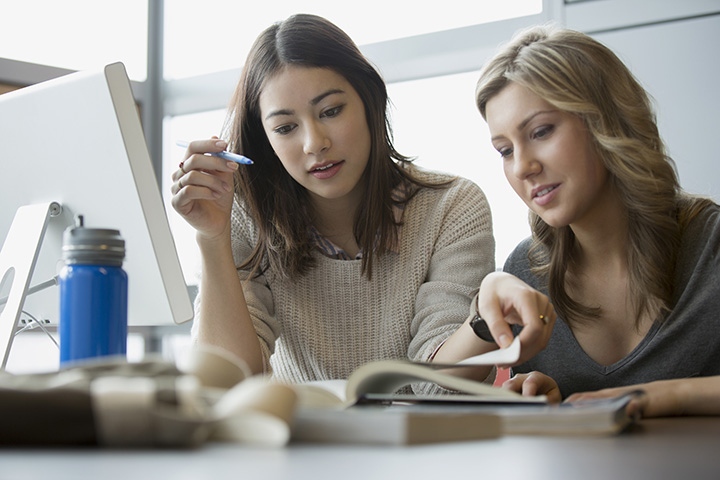 In-Text Format 
Use in-text or parenthetical citations when you paraphrase, quote or summarize another person's work in your paper. The in-text citation should lead the reader to the full source citation in the Works Cited list easily.
Include the first element (usually author's last name) and page number while creating MLA in-text citations.
Example
According to Tim Eichler, reading history books "helps students form their own opinions about current events" (216).
If reading history books help students form their own opinions (Eichler 216) then how does this relate to……
For two authors, use 'and' to separate the names:
Although block quotations are formatted differently within the text, you'll still need to include the citation.
In-text or parenthetical citations are the first part of a citation. In MLA style, you'll need to match each citation with a full source citation in your Works Cited page.
Works Cited Source Citation
In order to accommodate the flexibility created in MLA style, the container system was developed. Each source citation should have nine elements. These elements point the reader to the exact source you used to write your paper. This flexibility is important in writing for the humanities as you may find the source in different formats or platforms. For example, an interview may be published on YouTube, then edited and published in a blog or article. If you use the edited article for your source, it may be different from the original video.
Despite its flexibility, MLA citation format follows a basic form that includes author, title, location and publisher.
Example
Denneir, William. "The Death of Manners." Journal of Speaking Freely, Jan.-Feb. 2012, pp. 92-97.
Werner, Marta L. "Helen Keller and Anne Sullivan: Writing Otherwise." Textual Cultures, vol. 5, no. 1, Spring 2010, pp. 1-45.
Note: Include the url or doi in your entry, if required by instructor.
Remember to include all elements and details that will lead your reader to the exact source you used in your paper.
Organizing Works Cited
Once you've completed your paper, you'll need to organize and finalize your Works Cited page. If you created a preliminary bibliography or works cited, go back and eliminate the sources you did not use in your paper.
Then follow these steps:
Place your source entries in alphabetical order.
Check your source entries against your parenthetical citations.
Check your spelling, dates, and other source data.
Then organize your works cited page, using MLA approved abbreviations and acronyms.
As a final step, check your MLA school paper against your assignment rubric to make sure you've followed all your teacher's guidelines. In some cases, your teacher's instructions may differ from MLA guidelines but always follow your teacher's rules.
Related Articles: