Although most citation styles, such as APA and Chicago/Turabian do not require including entries for the Bible in bibliographies or reference lists, MLA does require a works cited entry. Cite the Bible or other religious texts using the MLA container system.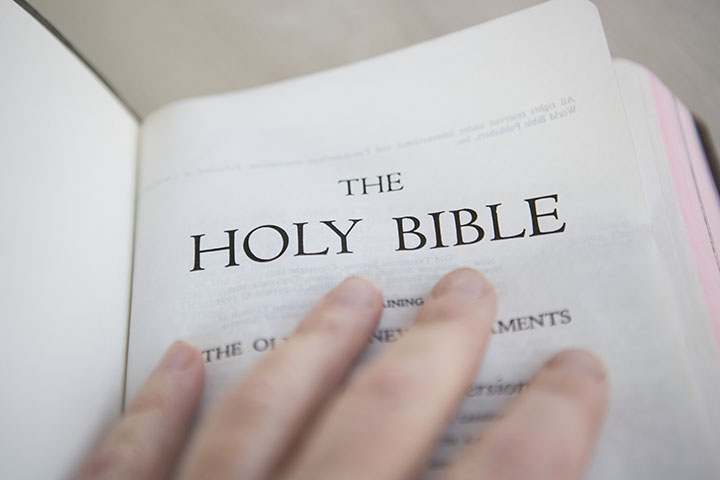 Creating an MLA Entry for a Bible Source
Using the nine core elements of MLA style, the first element will be the title rather than the author. However, if the translator or editor is critical to your research argument, you may use that as your first element. The MLA system is created to be flexible so you can develop your citations to emphasis your source. However, do make sure to include these elements:
Editor/Translator
Version/Edition
Publisher
Year of Publication
Note: Not all sources are available online, so exclude that if you have to do so.
Format:
Title of the Bible, Version. Editor, Publisher, Year.
Example:
The Bible. Authorized King James Version, Oxford UP, 1998.
The Bible. The New Oxford Annotated Version, 3rd ed., Oxford UP, 2001.
The New Jerusalem Bible. Edited by Susan Jones, Doubleday, 1985.
Note: If the version or edition is part of the title, you don't need to include it again.
(Source: MLA)
MLA In-Text Citations
When citing scripture or the Bible within your paper, you will create an in-text or parenthetical citation, which corresponds to your Works Cited entry.
Unlike other book titles, do not italicize these titles in-text.
Bible
Old Testament
Genesis
Gospels
However, you will italicize individual editions, such as:
The New Oxford Annotated Bible
Examples
In The New Oxford Annotated Bible, "Quote" (Ps. 25.4).
(New Jerusalem Bible 1 Chron. 21.8)
MLA Bible Abbreviations
While citing biblical scripture in text, use these acceptable abbreviations for the New Testament:
Apoc.      Apocalypse
Col.         Colossians
1 Cor.     1 Corinthians
Eph.        Ephesians
Gal.         Galatians
Heb.       Hebrews
Jas.         James
Matt.       Matthew
1 Pet.      1 Peter
Phil.        Philippians
Philem.  Philemon
Rev.        Revelation
Rom.      Romans
1 Tim.     1 Timothy
Tit.           Titus
Note: if 4 letters or fewer, use the whole name, such as:
Consult the MLA Handbook, Eighth Edition for more abbreviations.
Citing the Bible in MLA style is the same as any other entry in your MLA Works Cited entry. The MLA core elements within the container system makes it easy to cite any sources on your Works Cited page. Remember the point of citation is to lead your readers to the exact location of your source.
Related Articles: