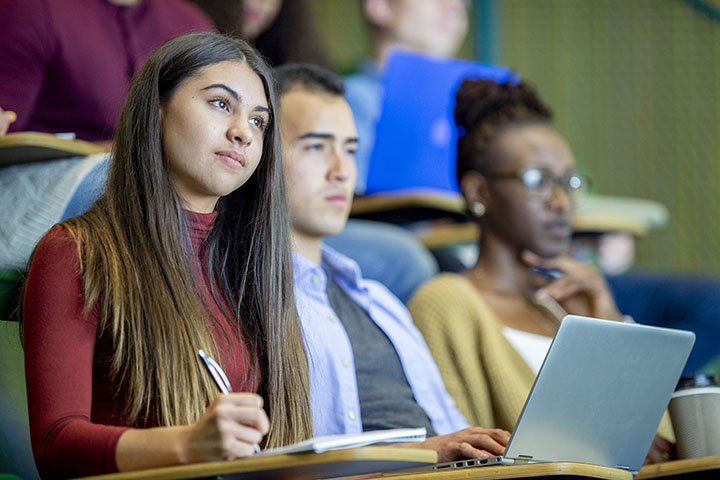 Learning to research and write MLA college papers is an essential skill as you leave the comfort of high school classes. One frequent complaint by college professors is that high school students come unprepared for college level writing. Gearing high school classes towards standardized tests encourages teachers to teach the five-paragraph essay rather than writing research papers.
College Writing
Another reason students struggle with researching and writing MLA college papers is the amount of writing. In college, you are expected to complete general education classes, including social sciences and humanities, regardless of your major.  Most of these classes require quite a bit of research and writing of papers.
If you are used to writing a five-paragraph essay on junk food and health using a quick Google search, learning to write college papers is a big transition. Here are some basic concepts for developing an MLA college paper.
Understanding Style Guides
First of all, teachers require different style guides for writing college papers. There are three common types of style guides used in college:
APA
Chicago (Turabian)
MLA
What is a style guide?
A style guide is developed by a professional organization to standardize research, writing and citation formats for disciplines. For example, APA style was created by the American Psychological Association to standardize research writing in the fields of social sciences. MLA was created by the Modern Language Association, and Chicago Manual of Style was created by the University of Chicago. Turabian is a student version of CMOS.
MLA style guide covers research writing from finding sources, outlining and formatting your paper to creating your works cited page. Use MLA style for subjects in humanities, such as English, modern languages and media studies.
MLA 8 is the latest edition. This revision revamps the citation process using a container system to create entries for the works cited list. However, the seventh edition of MLA is an excellent resource. The handbook covers research writing in depth.
Researching Your Topic
An area that students struggle with is finding accurate sources for their research. If you just do a random Google search for keywords, the results will be hit and miss. Colleges and libraries provide students with access to databases such as ProQuest and JSTOR. Learn how to use the databases. Your college or library will have LibGuides available to show you how to use those resources. Your librarian and writing center are additional resources.
Primary and Secondary Sources
Your paper should be based on primary research not secondary sources. You may use secondary sources such as reference works but the bulk of your research must be primary.
Many times, students are confused about primary and secondary sources, but it really is easy.
Primary = Original Material
Such as:
Photographs
Birth and death certificates,
Laboratory experiments,
Interviews you have conducted.
Original recordings, videos, diaries and autobiographies are primary sources too.
Journal articles based on author's original research
Secondary = Studies of Primary Sources
 Books or articles about historical events, literary works, reference works and so forth.
 Journal articles, such as literature reviews, that analyze previously published original research.
Example:
I know Why the Caged Bird Sings by Maya Angelou, an autobiography, is a primary source.
Injustice of Racism in Maya Angelou's I Know Why the Caged Bird Sings, an article analyzing her autobiography, is a secondary source.
Journal Articles
A journal article that describes research performed by the authors is a primary source.
A journal article, such as a literature review, that discusses others' research is a secondary source.
Transitioning from high school classes into college can be a scary time for many reasons. However, if you are prepared for writing MLA college papers, you will have a much easier time in all of your classes.
Related Articles: